---
Kronenbourg
Hi all, Beer Googles here, aka Milan Pivo. I hope you enjoyed last month's article about Guinness. Another St. Patty's day has passed, here's looking forward to next year. This month I will be writing about Kronenbourg. So grab a drink and read along.

I found out about Kronenbourg during my travels in Europe with my girlfriend at the time (Mrs. Pivo now). We had arrived in Nice, France via Florence Italy. We had just arrived by bus and were taking our first walk along the French Riviera.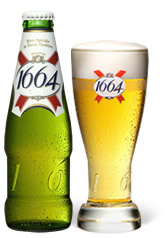 Nice is a very beautiful city and as we got closer to the sea it became more and more evident. Hand in hand with the future Mrs. Pivo, we were drawn to a group of young people that were speaking English and seemed to be having a great time. As we got closer we could see that each of them had a big 750ml green bottle of beer and a big bag of chips. This was our kind of party. Enjoying the Cote d'Azur with a big ole cold beer and chips was a great idea. We approached the group and asked them where they got the party supplies from. They responded in thick Australian accents and pointed us in the direction of their supplier.
We walked a couple of blocks and got to the local convenince store. We found the refrigerated beer shelf and grabbed a 750ml bottle each along with a bag of chips. We paid the Chinese store clerk and refused to have our beers opened in the store. What we didn't realize was that we were in Europe and that the bottles were not "twist off". We had walked all the way back to the spot where the Australians were still yucking it up and unfortunately we could not open our bottles. It seemed like a cruel joke. The sun was setting, waves crashing close by and cold beers in our hands that couldn't be opened. We asked the Australians for an opener but no luck.
We walked all the way back to the convenince store and shared in the funny situation with the storekeeper. He remarked, "I asked you if you would like them opened!" So we finally got a taste of this French brew and it did not disappoint. Cool, crisp, with a very nice bouquet.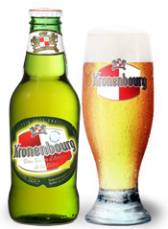 After Nice, we traveled to Barcelona, Madrid and San Sebastian. We were then reunited with this great beer in Bordeaux, France. Yes, red wine would be more appropriate but nothing quenches your thirst on a hot day like a cold crisp beer and we fell in love with Kronenbourg.
The weather in Bordeaux was 35c and the lack of green space wasn't helping. We were in a part of Bordeaux that was far from the famous vineyards that produce some of the world's best wine. We stayed in an apartment for 2 nights in a neighborhood that was made up of stone buildings and concrete roads. We literally baked. Our only savior between the Algerian Shawarma stands and the Bordeaux Jardin (Garden) was the cool and refreshing Kronenbourg beer found at a local store.
Milan Pivo enjoys a leisurely drink of
Kronenbourg in Bordeaux.
By the second day there, the French-African storekeeper recognized us and we shared a pleasant smile as we carried four 750ml bottles of Kronenbourg up to the checkout. The coolness of the beer fridge served as our only respite from the searing heat outside. Off we went back to our second floor apartment to refresh ourselves.
After our three-month travels in Europe we came to Canada with fond memories and a special place in our hearts for Kronenbourg. I was very happy to recognize it in the LCBO and Brewers Retail, which carry 500ml cans and six packs of regular sized bottles. I was even more shocked and surprised when I saw the restaurant board of our favorite Danforth pizza/pub (www.dine.to/brasstaps) proclaiming that Kronenbourg is served on tap. Amazing! Finally I was outright bemused by the fact that it can be found on tap at Carnaval (www.carnavalgrill.com), this Brazilian steakhouse just north of the city.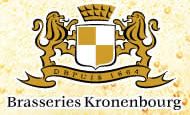 To my surprise while researching for this article I found out that Kronenbourg is actually a brewery that brews many different beers including: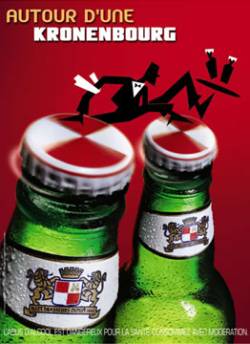 Kronenbourg
Beamish Stout
Beamish Red Irish Ale
Bud
Carlsberg
San Miguel
Strongbow
Foster's
Grimbergen
1664
Kanterbräu
Gold
Brugs
Wel Scotch
Wilfort
Force 4
Tourtel
Therefore Kronenbourg and 1664 are two different beers. Confused? Me too. I'm not sure which of the two I actually had in France, however both are excellent. Kronenbourg is France's top-selling beer - more than one out of every five beers sold in France is a Kronenbourg. Kronenbourg is a pilsner (aka lager) type beer with a slight bitter note and good malt and hoppiness. The name comes from Cronenbourg, a historical district of Strasbourg, where the brewery was built in the early part of the 19th century. The beer is made from selected barley, water drawn from the underground source below the brewery and hops, mainly the more bitter varieties. The result is a well-balanced brew with a smooth, well-rounded bitter note that is ideal for all occasions.
Kronenbourg 1664 is a strong, traditional beer that was named after the year the Hatt family, the brewery's founders, first started commercial brewing. Made with selected malts and exclusive yeast, this darkish beer with golden highlights has an aromatic hoppiness and a subtle bitterness that comes from a long maturation in the cellars. Ideal for drinking on a patio, 1664 is the market leader for high-end premium beers.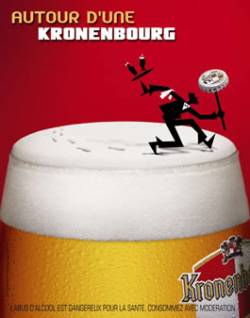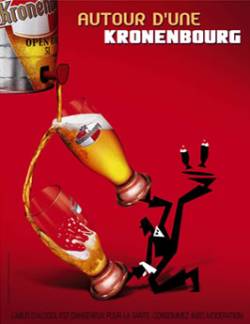 Beer in France obviously takes a back seat to the popularity of wine. In France beer is treated as refreshment, a thirst quencher, and not a serious drink in its own right. In fact France has a long history of brewing beer; the ancient land of Gaul was full of brewers. It wasn't until the invasion of the Romans that wine became prevalent.
The centre of modern day French lager brewing is Strasbourg, in the region of Alsace, close to the German border. In fact Kronenbourg takes it name from the Cronenbourg quarter of Strasbourg. The founders spelt it with a K to align itself with the great German brewing tradition. This name dates back to 1947, when a descendant of the Hatt brewing family decided to rename the brewery's famous Tigre Bock beer.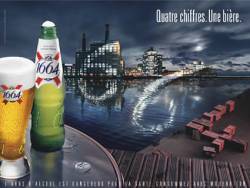 The company grew after WWII by selling its premium Biere d'Alsace across France in small bottles, at a time when most take-home lagers were low in strength and sold in litre bottles. The beer 1664 was launched in 1952 to commerate the cornation of Queen Elizabeth II. 1664 was the year Jerome Hatt was awarded his brewing diploma and set up his first brewery in the centre of Strasbourg. Today Kronenbourg is the largest brewer in France. It brews 225,000,000 gallons of beer a year, accounting for 40% of the domestic market.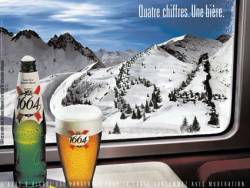 Kronenbourg 1664 is a strong traditional lager that is given a lengthy maturation period that creates an aroma of green, leafy hops, malt, and floral yeast. At 5.9% it is stronger then the Kronenbourg beer which is 5.2%. 1664 is smoother and a little more full bodied. 1664 is a worldwide selling larger and it is a great example of how mass-produced lager can still be of premium quality.
INTERESTING FACTS
Kronenbourg was owned by Boussois-Souchon-Neuvesel aka BSN, a French glass conglomerate (owned Evian), since 1970 which later became Danone, which in 2002 sold out to British multinational Scottish+Newcastle, part of Alken-Maes, a Belgian beer conglomerate
Kronenbourg 1664 won a coveted gold medal at the prestigious 2004 Brewing Industry International Awards.
Kronenbourg 1664 was voted Champion Draught Lager, at the International Brewing Awards. It also scooped gold in the Draught Class 2 category (4.6%-6.9% ABV).
Sold in 70 countries worldwide, Kronenbourg 1664 is France's No 1 selling beer and the UK's second biggest premium selling lager. Its unique recipe is distinguished by the use of the aromatic Strisselspalt hop – the 'caviar of hops' which sets it apart from other beers.
The Strisselspalt hop has been exclusive to Alsace – the home of Kronenbourg 1664 - since 1885 and is a unique variety of French aromatic hops, giving the beer an unrivalled aroma and superior taste. It is a 5% continental premium lager, more bitter than sweet, with a distinctive citrus flavour predominantly reminiscent of grapefruit.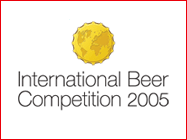 For more information on Kronenbourg go to: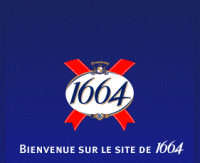 http://www.brasseries-kronenbourg.com/
Web sites of interest:
---
---
© 2006 (MR) roecken.ca