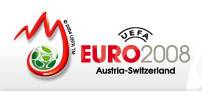 S O C C E R P O O L

March 17, 2018 23:34:13
Overview




Think you know who will win?

Then prove it by following this year's big tournament by betting on the winners and losers.

Introducing the Euro 2008 Soccer Pool.

Tournament entry closed.
Bulletin Board
Look here regularly for news flashes throughout the pool.
Attention: At the conclusion of the pool I will contact winners for prize money details.
If you are a winner and have not heard from me by June 30, 2008 please contact the pool organizer.
Thanks to all those that entered. I hope you enjoyed the tournament and the pool. The first online version of the pool was a success and look forward to future pools for upcoming tournaments.
Curious how many people made the same selections as you?
Leaderboard
Current Number of Entrants: 37
Current Prize Pool: $740 (1st - $370; 2nd - $222; 3rd - $148)
Tiebreaker - Total Number of Goals: 77
Once the tournament begins, click on an entrant to see their selections.
F I N A L R E S U L T S
Points
Position
Entrant
Total (Tiebreaker)
Scorers
Group Stage
QF
SF
Final
Champion
1
spursdave
300 (66)
50
70
60
30
50
40
2
Silvino
270 (96)
80
50
60
30
50
0
3
rudyBROTON(rod)
255 (72)
70
70
60
30
25
0

---

4
Slavista
255 (81)
60
55
60
30
50
0
5
Davidcfs
250 (80)
40
75
80
30
25
0
6
ACM
245 (78)
50
55
60
30
50
0
7
Eintracht Frankfurt
225 (77)
40
70
60
30
25
0
8
Beiramar
225 (72)
50
70
50
30
25
0
9
Guggi
225 (48)
60
50
60
30
25
0
10
Marco
220 (66)
40
75
50
30
25
0
11
Truggs
215 (80)
40
70
50
30
25
0
12
Danny Don
210 (87)
40
65
50
30
25
0
Links