---
Tusker

Hello all, Milan Pivo here. I know it has been a really long time since my last article. I think it was Moosehead right? Well I don't know what to say. I've still been drinking but not writing. I do have a great article for you this time on a beer from Africa, Kenya to be exact. You're probably asking yourself, Kenya brews beer? And if they do, why and how did I find out about it, or want to write about it? Well, good 'ole Milan always has some surprises up his sleeves. You see Milan was actually born in Africa, South Africa, in the city of Johannesburg. I never forgot about my birthplace and when I hear the country being talked about I become very proud. Reading up on beers I would come across South African beers like Castle, Lion and other African beers. Then thanks to our LCBO (Liquor Store) here in Ontario, I was able to find these beers and give them a shot. One beer in particular stood out, maybe it was the name, maybe it was the design of the label. Whatever it was, it took me in and I wanted to learn more about it. The beer that caught my attention was Tusker, the pride of Kenya.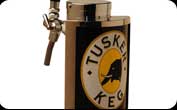 Historians and archeologists tell us that Egyptians were the first people to brew beer. The tradition of brewing beer is widespread across the whole continent of Africa. Local beers are commonly brewed from fermented maize (corn) or millet. It is traditional in Africa to drink home-brew during communal events such as marriages and weddings. To this land of tradition and community the British brought ingenuity and commerce. English and European settlers brought brewing devices from the Old country to replicate their favorite beers in their new homeland. England stouts remain an enduring favorite on the continent. Guinness actually has a brewery in Nigeria (see my first article).

Kenya in particular with its high altitude and proximity to the equator provides perfect growing conditions for hops and barley. The British settlers in Kenya were quick to discover this in the 1930's. The British sought to replicate their previous way of life, which included tremendous enjoyment of premium ales, lagers and stout. They brought brewing equipment and experienced brewers from England to achieve this. Two of these men were George and Charles Hurst. They were former gold prospectors and farmers. The brothers registered Eastern African Breweries in December 8, 1922. In the beginning their operation was small, local and very hands-on. They used small copper vessels heated by local Kuni fires. All the beer was bottled by hand with the first order of ten cases going to the General Manager of the Stanley Hotel. The Stanley Hotel is a very famous hotel that hosted kings, queens and novelist/adventurer Ernest Hemingway. Hemingway was a frequent visitor to Kenya, there to hunt elephants and other game. Tusker was said to be Hemingway's favorite beer.
Tusker -- the beer from the shadow of Kilimanjaro -- is known throughout the world. It got its name from the male tusked elephant, indigenous to Eastern Africa. This type of elephant actually trampled co-founder George Hurst, killing him during a hunting expedition in 1923. In memory of his tragic death, this famous lager that he had helped create was renamed "Tusker". The unique lager soon became as much a part of East Africa's tradition as safari itself. On every label of Tusker lager are the words "Bia Y Angu Nchi Yangu." That's Swahili for "My beer my country."

In the beginning Eastern African Brewery made English style ales and stouts using locally grown barley. They soon concentrated on brewing the golden lager that would later rise to international acclaim. In 1952 Eastern African Breweries (later known as Kenya Breweries) opened a second brewery on the coast at Mombasa. However the timing of this venture could not have been worse. War broke out between the Mau Mau rebels and the ruling British. As a result Africans boycotted English beer. In 1962 the company merged with rival Allsopp and in 1969 added City brewery of Nairobi.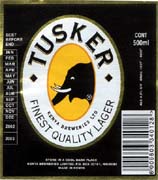 Tusker Lager is brewed using the highest quality malted bima barley grown in the scenic Kenyan Rift Valley, located close to the equator. It uses the pure waters of the Mizuma Springs in Kenya. The use of all these high quality local ingredients ensures that the people of Kenya love Tusker. As a result it is part and parcel of the National fabric. Tusker lager is a medium beer with an alcoholic content of 4.2% and is the highest selling beer in Kenya. It uses imported Styrian and Hallertauer hops. This combination produces an aromatic and delicate Pilsner type lager with malty overtones and a mild, dry hoppy finish. It has a very pale yellow colour with a hoppier taste then expected. It has a refreshingly dry, slightly bitter, creamy taste, which makes it very easy to drink. As a result it is a perfect compliment to many foods. Aftertaste is palate-cleansingly hoppy, a very good pilsner without complexity. Tusker is not just a beer but also a representation of the true and refreshing spirit of Kenya. For many Kenyans Tusker Lager = beer.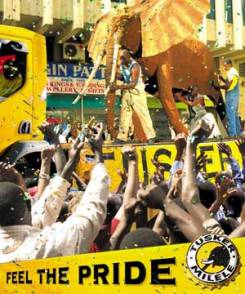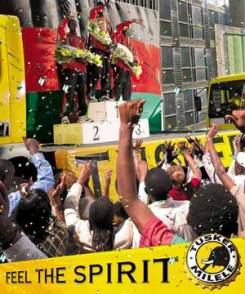 INTERESTING FACTS
Tusker lager is the biggest beer/alcoholic brand in the Kenya Breweries Ltd. portfolio in terms of volumes, market share and image.
Tusker has consistently won Gold Medals in the International Monde Selection Quality Awards.
Kenya Breweries also brews Tusker Malt, Tusker Export, Pilsner, Pilsner Ice, White Cap, Senator, Guinness, Allsopps and Smirnoff Ice.
KBL Brewery is located in Ruaraka, near the capital Nairobi.
In the year 2000 KBL were awarded a patent for the invention of the barley only brewing process used in the making of Citizen lager.

For more information on Tusker go to:
Web sites of interest:
---
---
© 2006 (MR) roecken.ca