---
Mythos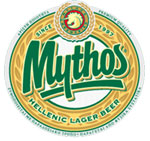 I first saw Mythos beer advertised during the Taste of the Danforth, an annual street festival that takes place in a popular Toronto Greek neighbourhood which has outdoor cafes and restaurants. The street closes for three days over the weekend as local merchants sell fresh souvalki, gyros, and various other Greek specialties. The event attracts people from all over Toronto. It is the only time when Torontonians can take to the street en masse, and not worry about being hit by a car in the process. It makes for a really great atmosphere. It was here that I had my first taste of Mythos.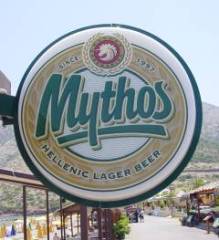 My introduction to this beer was nothing special; it was in a beer tent in the middle of the overcrowded Danforth Ave. The bottle of Mythos was opened and poured into a plastic cup, for safety reasons (definitely not for taste). The name caught my attention right away, as did the logo. This was a beer that was modern and very well marketed. The logo, the name, the look, the pieces were all there. The fact that this beer was from Greece was very surprising. This is definitely not a beer that is trying to be old and traditional.
Fast forward six years and I find myself on the island of Crete. My wife (yes ladies I am married…sorry) and I had arrived in Crete after being in Germany for a week. Needless to say we were used to drinking some great beers in Germany. As we walked to the beach we entered a local convenience store to buy some water, in the fridge beside the water we found…Mythos, cold and inviting at 2 Euros per half litre can or 1.80 per half litre bottle. We bought the water for the beach and spent the morning bathing ourselves in the Greek sun and cooling off in the ocean.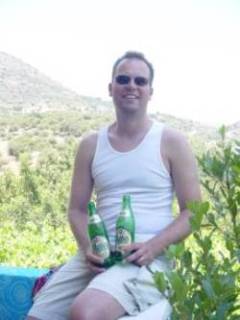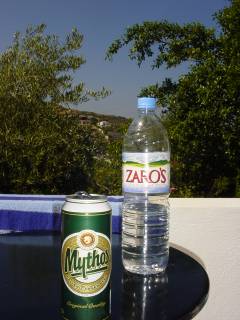 As siesta time approached we made our way back to our hotel, fully conscious of the inviting and presumably refreshing Mythos that were waiting for us in the convenience store fridge. We picked up four half litre bottles and some special olive oil and feta Frito Lay chips. My wife and I sat on our balcony and enjoyed the beautiful scenery. I quickly realized that I didn't have a bottle opener, damn non-twistable European beers, oh how I love you so. Well I did save us 0.80 cents by going with the bottle. You'd think I would have learned my lesson from that time in Nice, France with the Kronenbourg. Lets just say I now have a bottle opener key chain, a bottle opener in the glove compartment of the car and a bottle opener in my work bag. I must remember to add a bottle opener to my travel bag. Oh well, I used the pull tab lid of a peanut jar we got while in Germany and slit my thumb nicely. I was really getting thirsty at this point. Now I had to look after my thumb with some pressure and hotel toilet paper. Back to the important task at hand, I took my hotel key to the bottle cap and managed to free it from its oppressor. One more time for the wife…Cheers…AAAAAHHHHH…refreshing, light and flavorful. A great beer in a beautiful part of the world.
Mythos Brewery is the second largest brewery in Greece. Mythos beer was created in 1997, definitely the youngest beer that I have covered in the Beer Goggles series. It was the first authentically Greek beer. For a country that brought modern civilization so much, locally produced beer was definitely not one of them.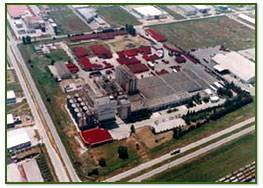 The brewery was established in 1970, as the local Greek distributor of German Henninger beer, under the name Henninger Hellas S.A. The production plant is located in Thessalonica, and three distribution centers in Athens, Thessalonica and Crete provide countrywide coverage. In 1997 when Mythos beer was launched, it immediately captured the hearts and minds of Greek and foreign consumers alike. It captured second place in its category and third place in overall beer sales. For the Greek market Mythos brewery also produces and distributes the German lager Henninger, the German pilsner Kaiser and the Greek lager Golden. The brewery also distributes Carlsberg, Fosters, Guinness and Kilkenny.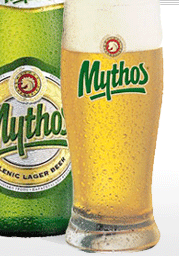 The land of ouzo is definitely not overflowing with local beer options, but there is a growing beer market. As you probably know there is a large Greek diaspora in parts of the world like Australia, the United States and Canada. Within these communities are proud people eager to support their culture and its products. This creates a huge potential customer base. Combine this with the large Greek tourist industry and you'll find a great recipe for success. The fact that the majority of tourists come from countries with a strong beer tradition, confirms the potential of Mythos beyond the borders of Greece. People from all over the world come to Greece and its beautiful islands. They eat their food and many now drink Mythos beer. The experience of enjoying a crisp, light flavorful beer in a beautiful part of the world is great advertising. It is hard to pass up this same beer in the blistering summer time when it is found on your local beer store shelf. Some may want to group Mythos together with watered down beers like Corona, Marca Bavaria and the newly promoted Brahma from Brazil, but these beers have nothing on this Greek great.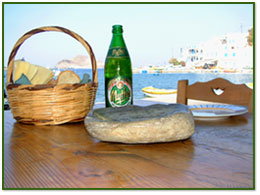 Mythos is the No. 1 Greek exported beer. It is produced from selected varieties of barley and hops. It is a pilsner style lager with a rich head, straw blonde colour and pleasant, refreshing taste. It is available in a number of European countries as well as in the United States, Canada and Australia. In 2001 Mythos won an award at the Interbeer International Beer & Whiskey Competition. The company asks the customer "when drinking Mythos, enjoy what you consider to be Legendary today; dream, travel and create your very own Legend."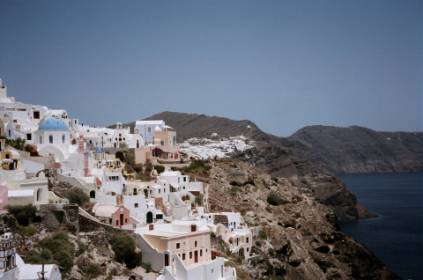 Mythos Brewery Timeline:
1970 founding Henninger Hellas S.A., by German Brewery Henninger Brau of Frankfurt
1989 BSN (French company, producer of Kronenbourg beer) takes stock majority
1992 the Boutari Group buys out Henninger Hellas S.A, lead player in the wine market
1994 company name changes to Northern Greece Brewery Ltd.
1997 Mythos, the first authentic Greek beer is launched
2001 name of the company changes to Mythos Brewery Ltd
2004 the company became a subsidiary of the Scottish & Newcastle Company


For more information on Mythos go to: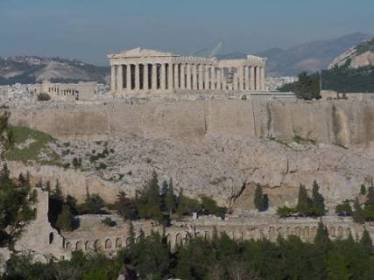 ---
---
© 2006 (MR) roecken.ca